MOLALLA RIVER ALLIANCE to repeat
'Discovery Series' field seminars
Field Trip Registration
Paypal Registration Coming.
Again this spring and summer, the Molalla River Alliance is sponsoring a series of three educational field trips in the Molalla River Recreation Corridor, focusing on its special geological features, its fish and wildlife, and its verdant plant cover.
"Discovery Series II" will replicate the successful series of field seminars launched by the MRA last year, using experts in their fields of study to describe and explain the remarkable natural features of the Molalla River.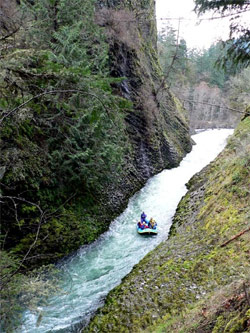 Rafting the Molalla River
A kickoff presentation previewing the field trips is set for Tuesday, May 8, from 7 to 8 p.m. in the Molalla Adult Center, 315 Kennel Ave., in Molalla. It will include a presentation from the Bureau of Land Management of its newly adopted Recreation Management Plan for the Molalla River Recreation Area. Admission is free. There Last year's field trips sold out quickly and were a big hit with the participants. We had many requests to repeat the series. We're very grateful to the Clackamas County Tourism and Cultural Affairs Office for its support in making it possible to offer this opportunity again to everyone who wants to learn more about one of Oregon's very special places.
The field seminars are scheduled as follows:
"Flora and Fauna of the Molalla Watershed," led by Dawn Gilkison, adjunct science instructor at Clackamas Community College, Saturday, June 2, 2012, 1 p.m. to 3 p.m.
"Geology and Hydrogeology of the Molalla," led by Sheila Alfsen, Saturday, Aug. 4, 1 p.m. to 3 p.m.
"Fisheries and Water Quality Issues," led by MRA volunteer guides Mark Schmidt of the Native Fish Society and Karen Williams of the Oregon Department of Environmental Quality, Saturday, Sept. 29, 1 p.m. to 3 p.m.
Admission for the seminars is $20 per adult, and $15 for juniors (12 and under) and seniors (55 and over). Transportation will be provided. All seminars will begin and end at the Molalla City Hall parking lot.
Each seminar is limited to 20 persons, so it's a good idea to sign up early. Reservations may be made online at www.molallariveralliance.org, by mail at Molalla River Alliance, Discovery Series II, PO Box 727, Molalla, Oregon, 97038, or in -person at next Tuesday's kickoff meeting.
The Molalla River is a treasure our Alliance is working to preserve and enhance, in concert with numerous government and private organizations, property owners and conservationists. The more people learn about the Molalla, the more they want to protect it for the next generation to enjoy.