The Molalla River
Overview of the Molalla River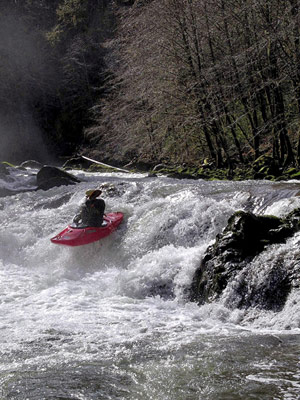 The Molalla River Alliance is a coalition of nonprofit civic and conservation organizations, local, regional, state and federal agencies, and individual conservationists dedicated to preserving, promoting and enhancing the beautiful Molalla River Recreation Area --- one of few remaining wild rivers in Oregon.
From its headwaters beyond Table Rock Wilderness in the Cascade Range, the crystal-clear and biologically diverse Molalla River tumbles through private and public forests to its confluence with the Willamette River. As well as providing clean drinking water for the cities of Molalla and Canby, the river supports a treasure of ecosystems and offers year-round recreational opportunities. It is home to native winter steelhead and salmon runs, an abundance of wildlife, geological wonders and a profusion of recreational opportunities.
Annually, thousands visit the Molalla River Recreation Corridor for hiking, kayaking and white water rafting, touring and mountain biking, camping, horseback riding, hunting, fishing, swimming, picnicking, nature watching, or to simply enjoy the sounds of the River. There are more than 30 miles of non-motorized trails which access numerous waterfalls and vistas.
The Table Rock Wilderness and Molalla River corridor are also of significant cultural and historic significance. From pre-historic times an extensive system of trails has existed providing a key east-west trade route across the Cascades between peoples of the northern Willamette Valley and those of Eastern Oregon.
This area also serves as an important wildlife corridor containing critical habitat for the northern spotted owl, pileated woodpecker, red tree vole, red-legged frog and pacific giant salamander. It also provides habitat for bears, cougars, bobcat, deer, elk, beaver, otter, hawks, osprey and both golden and bald eagles.
The upper river and its major tributaries provide critical spawning and rearing habitat for steelhead, salmon and native wild cutthroat trout. Distinct populations of Molalla River steelhead and salmon are listed as 'threatened' under the Endangered Species Act.
Getting There
The Molalla River Recreation Corridor is both an hour away from the Portland area and also a world away. Unrestricted access to the entire Corridor is possible on the paved Molalla Forest Road and the graveled Copper Creek Road which border the river.
This also assures easy accessibility for local schools to bring students to learn about the geology and various ecosystems.
» See Map for directions to the Molalla River Recreation Corridor.
Map
How to get there . . .
The Molalla River Recreation Corridor is about an hour's drive from Portland or Salem. It is about 30 minutes east of I-5 at the Woodburn exit, and about 30 minutes south of I-205 in Portland (exit 10, Molalla/Highway 213 exit.
Directions to Molalla and the Molalla River Recreation Corridor
From Interstate 5 . . .
Take the Woodburn exit (No. 271) and head east on Highway 214/211 to Molalla, approximately 18 miles.
From I-205 . . .
Take exit 10, Molalla/Highway 213 and go south on Hwy 213 approximately 24 miles.
Turn left at the Molalla Ave. sign, and proceed 2 miles into Molalla. Turn left at the flashing red light onto Highway 211 (Main Street).
Directions from Molalla to the Molalla River Recreation Corridor . . .
Once in Molalla, proceed east on Highway 211 (Main Street) to the "Y" inter-section. A large white church (Methodist) will be in front of you, and an Astro gas station on the left. Veer right onto Mathias Road.
Proceed south for approximately .3 of a mile and veer left onto Feyrer Park/Dickey Prairie Road.
Proceed east 1.7 miles to Feyrer Park Bridge. Cross the bridge over the Molalla River and turn right onto Dickey Prairie Road.
Travel 1.7 miles to Dickey Prairie Store and veer right, staying on Dickey Prairie Road.
Travel 3.5 miles south and turn right at Glen Avon Bridge crossing the Molalla River.
After crossing the bridge, veer left onto the South Molalla Forest Road.
Proceed south for 1.5 miles to the entrance to the Molalla River Recreation Corridor.
Enjoy!
CAUTION!
DO NOT USE MAPQUEST, GOOGLE MAP OR A GPS NAVIGATION SYSTEM TO GET TO THE MOLALLA RIVER RECREATION CORRIDOR-THEY MAY ROUTE YOU DOWN PRIVATE LOGGING ROADS THAT MAY BE HAZARDOUS OR LOCKED.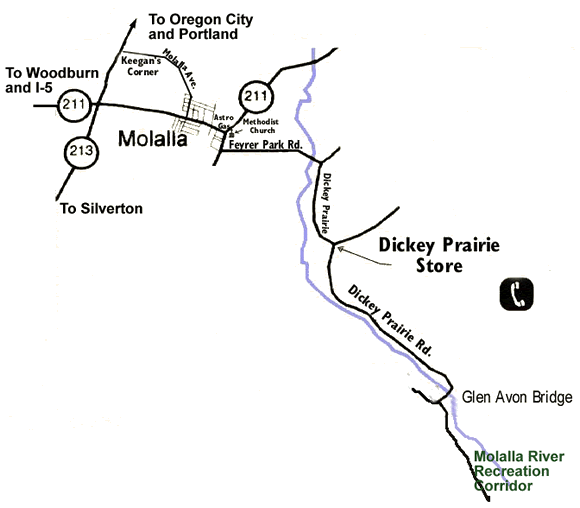 Supplies, Guides, Services
| | | | | | | |
| --- | --- | --- | --- | --- | --- | --- |
| ATM/BANK | CHASE | | 318 CENTER STREET | MOLALLA | OR | 97038 |
| ATM/BANK | US BANK OF OREGON | | 415 CENTER STREET | MOLALLA | OR | 97038 |
| ATM/BANK | WELLS FARGO | | 200 CENTER STREET | MOLALLA | OR | 97038 |
| ATM/BANK | WEST COASTBANK | | 401 E. MAIN STREET | MOLALLA | OR | 97038 |
| AUTO PARTS AND SUPPLIES | CARQUEST OF MOLALLA | 919-573-3575 | 122 S. MOLALLA AVENUE | MOLALLA | OR | 97038 |
| AUTO PARTS AND SUPPLIES | MOLALLA NAPA AUTO PARTS | 503-829-6272 | 201 E. MAIN STREET | MOLALLA | OR | 97038 |
| AUTO SERVICE AND REPAIR | MOLALLA AUTO WORKS | 503-829-7681 | 810 E. MAIN STREET | MOLALLA | OR | 97038 |
| AUTO SERVICE AND REPAIR | MOLALLA CHEVROLET | 503-829-2222 | 203 N. MOLALLA AVENUE | MOLALLA | OR | 97038 |
| AUTO SERVICE AND REPAIR | PRICE AUTOMOTIVE | 503-829-8676 | 110 KENNEL AVENUE, UNIT A | MOLALLA | OR | 97038 |
| AUTO SERVICE AND REPAIR | REASONER'S SERVICE | 503-829-2502 | 202 W. MAIN STREET | MOLALLA | OR | 97038 |
| AUTO SERVICE AND REPAIR | RICHIES MUFFLER & CUSTOMS | 503-829-7999 | 804 E. MAIN STREET | MOLALLA | OR | 97038 |
| BAKERY | LA ESPIGA DE ORO | | 107 ROBBINS STREET | MOLALLA | OR | 97038 |
| BOOTS AND TACK | FLAT IRON BOOT & SHOE | 503-829-9635 | 410 E. MAIN STREET | MOLALLA | OR | 97038 |
| CAR WASH | MOLALLA CAR WASH | 503-829-9399 | 524 W. MAIN STREET | MOLALLA | OR | 97038 |
| CHILDREN'S WEAR | LITTLE SWEET PEAS | 503-829-9646 | 111 S. MOLALLA AVENUE | MOLALLA | OR | 97038 |
| COFFEE/ESPRESSO | BJ COFFEE OF MOLALLA | 503-829-8211 | 1585 W. MAIN STREET, SUITE S | MOLALLA | OR | 97038 |
| COFFEE/ESPRESSO | HOTSHOTS ESPRESSO | 503-936-5406 | 629 W. MAIN STREET | MOLALLA | OR | 97038 |
| CONVENIENCE GROCERY | BLACKMAN'S 4-WAY | 503-829-8918 | 12704 S. HIGHWAY 211/213 | MOLALLA | OR | 97038 |
| CONVENIENCE GROCERY | DICKEY PRAIRIE STORE | 503-829-7654 | 16560 RAMSBY ROAD | MOLALLA | OR | 97038 |
| CONVENIENCE GROCERY | FOOD MART | 503-829-2373 | 204 E. MAIN ST. | MOLALLA | OR | 97038 |
| CONVENIENCE GROCERY | FRED'S FOOD O MART | 503-829-8320 | 102 LEROY AVENUE | MOLALLA | OR | 97038 |
| CONVENIENCE GROCERY | Y-MARKET / TOAD'S EXPRESS DELI | 503-829-8540 | 901 E.MAIN STREET | MOLALLA | OR | 97038 |
| FEED AND SUPPLIES | BENTLEY FEED CO. | 503-829-2412 | 110 N. MOLALLA AVENUE | MOLALLA | OR | 97038 |
| FIREARMS | WILD BILL'S GUNS | 503-829-5153 | 105 S. MOLALLA AVENUE | MOLALLA | OR | 97038 |
| FLORIST | WILD IRIS FLOWERS & GIFTS | 503-829-4747 | 234 CENTER AVENUE | MOLALLA | OR | 97038 |
| GAS | SAFEWAY | 503-829-4848 | 1525 W. MAIN STREET | MOLALLA | OR | 97038 |
| GAS & PROPANE | BLACKMAN'S 4-WAY | 503-829-8918 | 12704 S. HIGHWAY 211/213 | MOLALLA | OR | 97038 |
| GAS & PROPANE | CHEVRON | 503-829-2373 | 204 E. MAIN ST. | MOLALLA | OR | 97038 |
| GAS & PROPANE | ASTRO | 503-829-8540 | 901 E.MAIN STREET | MOLALLA | OR | 97038 |
| GIFTS AND DÉCOR | WYNN DESIGN | 503-829-4560 | 115 E. MAIN STREET | MOLALLA | OR | 97038 |
| GROCERY | HARVEST MARKET BY THIFTWAY | 503-829-2322 | 107 ROBBINS STREET | MOLALLA | OR | 97038 |
| GROCERY | SAFEWAY | 503-829-4848 | 1525 W. MAIN STREET | MOLALLA | OR | 97038 |
| GUIDE (HIKING AND CAMPING) | UPWARD TRAILS | 503-919-9027 | PO BOX 531 | COLTON | OR | 97017 |
| GUIDE (RAFTING AND KAYAKING) | BLUE SKY WHITEWATER RAFTING | 1-800-898-6398 | PO BOX 1671 | ESTACADA | OR | 97023 |
| HARDWARE | MOLALLATRUE VALUE HARDWARE | 503-829-2022 | 114 GRANGE ST. | MOLALLA | OR | 97038 |
| HEALTH FOOD | SONLIGHT VITAL FOODS INC | 503-829-9456 | 123 ROBBINS STREET | MOLALLA | OR | 97038 |
| INFORMATION AND REFERRAL | MOLALLA RIVER RESOURCE CENTER | | 103 S. MOLALLA AVENUE | MOLALLA | OR | 97038 |
| INFORMATION AND REFERRAL | MOLALLA AREA CHAMBER OF COMMERCE | 503-829-6941 | 105 E. MAIN STREET | MOLALLA | OR | 97038 |
| INFORMATION AND REFERRAL | CITY OF MOLALLA | 503-829-6855 | 117 N. MOLALLA AVENUE | MOLALLA | OR | 97038 |
| LAUNDROMAT | THE CLOTHES BASKET | | 501 E. MAIN STREET | MOLALLA | OR | 97038 |
| LAUNDROMAT | MOLALLA MARKET CENTER--SUITE G | | 1515 E. MAIN STREET | MOLALLA | OR | 97038 |
| LIQUOR AND MIXERS | MOLALLA MARKET CENTER--SUITE G | | 1585 E. MAIN STREET | MOLALLA | OR | 97038 |
| LOUNGE/RESTAURANT | SUNDOWNER LOUNGE | 503-829-6434 | 115 W. MAIN STREET | MOLALLA | OR | 97038 |
| LOUNGE/RESTAURANT | WHITE HORSE LOUNGE | 503-829-3585 | 106 E. MAIN STREET | MOLALLA | OR | 97038 |
| LOUNGE/RESTAURANT | THE SPOT AGAIN | 503-829-5288 | 117 S. MOLALLA AVENUE | MOLALLA | OR | 97038 |
| LOUNGE/RESTAURANT | THE RIVER BAR AND GRILL | 503-829-3344 | 110 S. MOLALLA AVENUE | MOLALLA | OR | 97038 |
| MEDICAL/DENTAL | PAUL BAUMGARTNER, DMD | 503-829-6879 | 128 E. ROSS STREET | MOLALLA | OR | 97038 |
| MEDICAL/DENTAL | MOLALLA MEDICAL CLINIC | 503-829-2273 | 110 CENTER STREET | MOLALLA | OR | 97038 |
| MEDICAL/DENTAL | ROBINSON CHIROPRACTIC CLINIC | 503-829-6176 | 317 N. MOLALLA AVENUE | MOLALLA | OR | 97038 |
| MEDICAL/DENTAL | MOLALLA VISION CENTER | 503-829-9186 | 502 E. MAIN STREET | MOLALLA | OR | 97038 |
| MEDICAL/DENTAL | MOLALLA FAMILY DENTAL, PC | 503-829-7677 | 128 E. ROSS STREET | MOLALLA | OR | 97038 |
| MEDICAL/DENTAL | VALLEY CHIROPRACTIC CARE LLC | 503-829-2662 | 207 S. MOLALLA AVENUE | MOLALLA | OR | 97038 |
| MEDICAL/DENTAL | FAMILY MEDICAL GROUP OF MOLALLA | 503-829-7374 | 861 W. MAIN STREET | MOLALLA | OR | 97038 |
| MEDICAL/DENTAL | NORTHWEST DENTAL CLINIC | 503-829-9731 | 106 EAST 2ND STREET | MOLALLA | OR | 97038 |
| MEDICAL/DENTAL | MOLALLA DENTAL CLINIC P.C. | 503-829-9734 | 175 GRANGE AVENUE | MOLALLA | OR | 97038 |
| MEDICAL/DENTAL | CLACKAMAS PHYSICAL THERAPY | 503-656-0139 | 270 N. MOLALLA AVENUE | MOLALLA | OR | 97038 |
| MEDICAL/DENTAL | M&M DENTAL, INC | 503-829-7567 | 128 E. ROSS STREET | MOLALLA | OR | 97038 |
| MEDICAL/DENTAL | MOLALLA CHIROPRACTIC & NATUROPATHIC CLINIC | 503-829-2297 | 318 E. MAIN STREET | MOLALLA | OR | 97038 |
| MEDICAL/DENTAL | ALTERNATIVE PHYSICAL THERAPY | 503-829-8221 | 111 W. MAIN STREET | MOLALLA | OR | 97038 |
| MEDICAL/DENTAL | FOUNTAIN VALLEY DENTAL | 503-759-3333 | 1515 WEST MAIN STREET, STE Q | MOLALLA | OR | 97038 |
| MEN'S WEAR | MOLALLA MAN'S SHOP | 503-829-2162 | 104 E. MAIN STREET | MOLALLA | OR | 97038 |
| MOTEL | STAGECOACH INN MOTEL | 503-829-8460 | 415 GRANGE STREET | MOLALLA | OR | 97038 |
| MOTORCYCLE REPAIR | CEDAR MOUNTAIN CYCLES | 503-759-3841 | 113 S. MOLALLA AVENUE | MOLALLA | OR | 97038 |
| PHARMACY | CUTTER'S HIGH SCHOOL PHARMACY | 503-829-7655 | 103 ROBBINS STREET | MOLALLA | OR | 97038 |
| PROPANE | PACER-PORTLAND PROPANE | 503-829-5560 | 506 INDUSTRIAL WAY | MOLALLA | OR | 97038 |
| RESTAURANT | CINDY'S CAFE & CATERING | 503-829-3338 | 115 E. MAIN STREET | MOLALLA | OR | 97038 |
| RESTAURANT | EL AMIGO RESTAURANT | 503-829-7221 | 222 CENTER AVENUE | MOLALLA | OR | 97038 |
| RESTAURANT | EL CAPORAL TAQERIA | 503-853-6764 | 816 E. MAIN STREET | MOLALLA | OR | 97038 |
| RESTAURANT | EL CHARRITO | 503-829-3070 | 117 E. MAIN STREET | MOLALLA | OR | 97038 |
| RESTAURANT | FARMSTEAD RESTAURANT & PUB | 503-829-7427 | 28313 S. HIGHWAY 213 | MOLALLA | OR | 97038 |
| RESTAURANT | FATHEADS PIT SMOKE BBQ | 503-803-9238 | 325 W. MAIN STREET | MOLALLA | OR | 97038 |
| RESTAURANT | FIGARO'S PIZZA | 503-829-4900 | 119 ROBBINS STREET | MOLALLA | OR | 97038 |
| RESTAURANT | HAPPY FAMILY CHINESE RESTAURANT | 503-829-3268 | 413 GRANGE STREET | MOLALLA | OR | 97038 |
| RESTAURANT | HITCH'IN POST CAFE | 503-829-7941 | 131 E. MAIN STREET | MOLALLA | OR | 97038 |
| RESTAURANT | HOFFMAN HOUSE | 503-829-2640 | 523 E. MAIN STREET | MOLALLA | OR | 97038 |
| RESTAURANT | JASPER'S CAFE | 503-829-2848 | 115 ENGLE AVENUE | MOLALLA | OR | 97038 |
| RESTAURANT | LAM'S CHINESE KITCHEN | 503-829-4050 | 102 E. 2ND STREET | MOLALLA | OR | 97038 |
| RESTAURANT | MCDONALDS OF MOLALLA | 503-829-9922 | 1565 W. MAIN STREET | MOLALLA | OR | 97038 |
| RESTAURANT | MIA'S SANDWICH SHOP | 503-829-9080 | 230 CENTER STREET | MOLALLA | OR | 97038 |
| RESTAURANT | MOLALLA SUBWAY | 503-759-4556 | 270 N. MOLALLA AVENUE, STE A | MOLALLA | OR | 97038 |
| RESTAURANT | MUCHAS GRACIAS | 503-759-3559 | 112 ROBBINS STREET | MOLALLA | OR | 97038 |
| RESTAURANT | PAPA MURPHY'S COMPANY STORES | 503-829-7275 | 1585 WEST MAIN STREET #E | MOLALLA | OR | 97038 |
| RESTAURANT | RICKY D'S PIZZA | 503-829-8801 | 111 E. MAIN STREET | MOLALLA | OR | 97038 |
| RESTAURANT | SAN BLAS | 503-829-9478 | 1585 WEST MAIN STREET, STE K | MOLALLA | OR | 97038 |
| RESTAURANT | ZHU'S NEW CHINA | 503-829-9896 | 106 N. MOLALLA AVENUE | MOLALLA | OR | 97038 |
| RV REPAIR | PEEVEE ENTERPRISES | 503-829-9611 | 114A KENNEL AVENUE | MOLALLA | OR | 97038 |
| SADDLERY | FLAT IRON BOOT & SHOE | 503-829-9635 | 410 E. MAIN STREET | MOLALLA | OR | 97038 |
| SPORTS/OUTDOORS/SUPPLIES | BI MART | 503-826-4487 | 514 W. MAIN STREET | MOLALLA | OR | 97038 |
| TAXI | ORICK'S TAXI | 503-829-7909 | 33260 S. WILHOIT ROAD | MOLALLA | OR | 97038 |
| TIRES | ERICKSON TIRE & AUTO | 503-829-4255 | 517 N. MOLALLA AVENUE | MOLALLA | OR | 97038 |
| TIRES | LES SCHWAB TIRE CENTER #262 | 503-829-6022 | 31291 S. HIGHWAY 213 | MOLALLA | OR | 97038 |
| TOWING | ACTION TOWING & REPAIR | 503-829-9268 | 31901 S. HWY 213 | MOLALLA | OR | 97038 |
| TOWING | KELLY TOWING | 503-829-5552 | 31901A S. HIGHWAY 213 | MOLALLA | OR | 97038 |
| TOWING | M&M WRECKING | 503-982-2751 | 1320 S. TOLIVER ROAD | MOLALLA | OR | 97038 |
| VARIETY | THE COUNTRY STORE | | 107 ROBBINS STREET | MOLALLA | OR | 97038 |
| VETERINARIAN | SOUTH CLACKAMAS VET SERVICE | 503-829-4428 | 206 SHAVER STREET | MOLALLA | OR | 97038 |
| VETERINARIAN | MOLALLA VETERINARY CLINIC | 503-829-2202 | 12786 S. TOLIVER ROAD | MOLALLA | OR | 97038 |
| WESTERN WEAR/GIFTS | SPURS | 503-829-8501 | 125 E. MAIN STREET | MOLALLA | OR | 97038 |
| WESTERN WEAR/GIFTS | WESTERN STORE | | 803 W. MAIN STREET | MOLALLA | OR | 97038 |